The invention of lying: Le plaisir de mentir (2009)
Par
Dominique Fortier
• 29 janvier 2010 à 10:47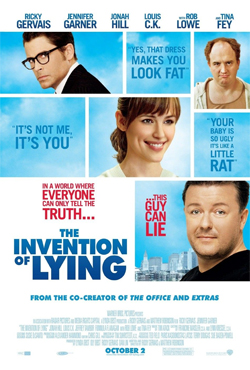 Dans un monde où tous et chacun ne disent que la vérité, Marc Bellison (Ricky Gervais) est le seul à maîtriser l'art du mensonge.  Imaginez tout ce que vous pourriez accomplir si tous les gens à qui vous parlez croyaient absolument tout ce que vous leur dites.
Cette comédie écrite, réalisée et produite par Ricky Gervais, créateur de la version britanique de « The Office », se veut légère mais efficace.  Un bon divertissement si vous n'avez pas envie de vous casser la tête.  Le personnage principal, également joué par Gervais, est un auteur sans trop de succès au physique ingrat qui se fait systématiquement rejeter par les demoiselles.  Après tout, comment espérez-vous trouver une femme canon alors que personne ne se gêne pour souligner votre excès de poids et votre nez en trompette.
Le scénario est bien ficelé et le rythme est bon.  Ricky Gervais, n'étant pas un débutant dans le domaine, mise juste avec cette histoire originale et toute en humour.  Il y a bien évidemment quelques scènes sirupeuses mais quelle comédie n'en a pas? Le reste de la distribution est également bien choisie avec Rob Lowe, Jennifer Garner, Tina Fey et Jonah Hill qui complètent la joyeuse ribambelle.
Pour ceux qui ont envie de rigoler, de se détendre et de passer un bon moment, The invention of lying est le remède qu'il vous faut.  Des personnages attachants, des situations cocasses et des répliques épicées.  Idéal pour une petite soirée avec l'être aimé.
***

Par Dominique Fortier
Lire les 242 articles par Dominique Fortier